Tenant Guide - Bengie
Prism is a web-based suite of tools that links you to your Property Management team. Bengie is an automated chat bot that can help you communicate with your Property Management team on the go.
This guide will help you to get started. Before using Bengie through text message, your Property Management team needs to invite you to Prism.
If your company uses the Slack collaboration tool, you can also use Bengie in your workspace! Here is the link to get started.
1.) Welcome!
Simply text "Hi Bengie" to B-E-N-G-I-E (236443)* to get started.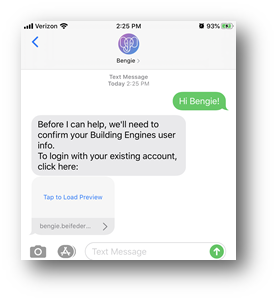 Bengie will help you do a one-time link to your Prism account so you can get started.
2.) Start Chatting
Bengie can provide building information, enter work orders and more.
3.) Creating work orders is easy!
Just tell Bengie what your problem is. You can add photos, additional information, anything to help your Property Management team.
4.) Follow Progress
Bengie can keep you up to date on the progress of your work order.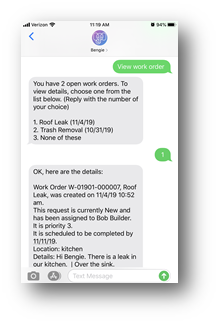 5.) No phone, no problem!
Prism has an easy web interface available at connect.buildingengines.com. Log in and give it a try!
*Message and data charges may apply (1 message/request). Reply UNSUBSCRIBE to opt-out or HELP for help.